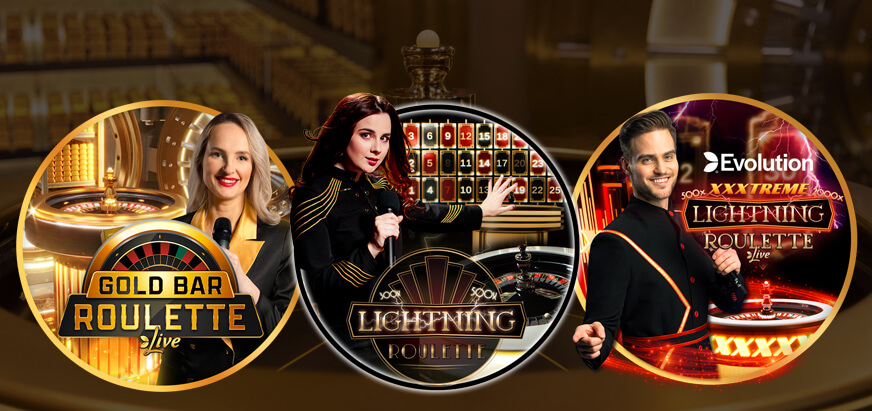 Still, with the many games Evolution launches, it can be easy to miss out on these roulettes. That is why we will review the greatest roulette games the software provider has launched recently.
Gold Bar Roulette
Gold Bar Roulette is the latest innovation Evolution brings to the roulette space. Alongside an attractive backdrop that lets us wander into the vault, the game offers a brand new mechanic in roulette. The gold bars give players an option of winning big, up to a maximum value of $500,000.
How do gold bars work? The game grants them as prizes whenever you score a win. However, not every win will do. Instead, only successful single number wagers will produce a gold bar we can use.
Scoring wins grants one or more gold bars. Players can then place these gold bars on single numbers. If the roulette wheel draws your chosen number, players win 88x the gold bar's value. We can see how many gold bars you have available and their current value adjacent to the coin selection. Every gold bar wins awards more gold bars.
XXXtreme Lightning Roulette
XXXtreme Lighting Roulette is an interesting case where a variant becomes so popular it gets a variant of its own! This release follows in the footsteps of Lightning Roulette while adding new elements to increase the excitement. If the original game was not lucrative enough for you, this game's 2,000x top prize promises a more thrilling experience.
The game carries over the familiar multipliers that set Lightning Roulette apart from its peers. The game's random number generator applies a multiplier ranging from 50x to 500x. The multiplier gets awarded up to five numbers simultaneously. However, multipliers only apply to straight number bets.
Players also benefit from the Chain Lightning feature. This bonus creates up to nine multipliers in random positions on the playing field. This feature works in tandem with standard lightning multipliers, allowing up to ten multiplied numbers simultaneously.
Finally, XXXtreme Lightning Roulette features the Double Strikes mechanic. It takes existing multipliers on the board and increases their value! If you are hoping to win the 2,000x top prize, you must get lucky enough to activate the Double Strikes feature.
Lightning Roulette
Lightning Roulette is probably Evolution's most popular roulette game. It was the inspiration behind XXXtreme Lightning Roulette, and its success encouraged the team to experiment with Gold Bar Roulette. It was so successful that Evolution and Scientific Games partnered to bring Lightning Roulette to land-based casinos. This game has been around for years and still shows it is good enough to compete with more recent additions.
The game draws between one and five Lightning numbers. Each number has a multiplier ranging from 50x to 500x applied to it. We only benefit from the multiplier if we predict one of those Lightning numbers and the roulette wheel draws them. Other features mentioned in XXXtreme Lightning Roulette are not available here.
Final Thoughts
We have had the pleasure of experiencing many Evolution roulette games recently. Alongside these releases, Evolution launched many European Roulette games, including the eye-catching Immersive Roulette and French Roulette. The team also launched roulette variants such as Double Ball Roulette and Instant Roulette.
All of these titles offer something that makes them attractive to players. However, their popularity is not on the same level as the three releases we elaborated on in-depth. Lightning Roulette, Gold Bar Roulette, and XXXtreme Lightning Roulette redefined how many players enjoy live roulette games. Including multipliers and gold bars allows casino members to score massive prizes in these releases.